Meet Ilyana Kadushin
Actress | Award Winning Narrator | Film & Music Producer
I was born in the spicy city of Miami, raised in the rural cornfields of Maryland, and educated at prep schools with the daughters of famous politicians and other assorted heiresses.
As a child, I had the opportunity to travel with my parents to the Soviet Union, witnessing part of my ancestry and seeing first hand how much I had to be grateful for. This planted a travel bug in my soul and I continued to travel the world observing the people and cultures of many places. I then landed in New York City and attended NYU's Tisch School of Arts Experimental Wing, winning the Tisch Studio Award of Excellence upon graduation.
I immediately delved deeper into the world of performance, film, art, and music of all kinds: very inspired by all these diverse ways of story telling. Taking in the complexities of New York life around me, I felt more and more that all these creative mediums must be intertwined to more truthfully express myself as an artist. I love being a part of the story telling process and from the very beginning, every story I created had this driving force behind it, to cause change or illuminate something not seen before.
I wrote and performed a one woman multimedia musical called "Devour the Apple".
This piece was about different generations of women in my family, their relationships to each other, and how they tried to fit into the world around them. I have gone on to produce and perform in both documentary theater and films that engaged the audience to think differently on issues that are challenging to talk about including: Becoming Natasha (Amnesty International Human Rights Week performance about Sex Trafficking), BOLD A Birth Play (about women's birth and health rights), True Body Project (performance instillation about empowering girls and women to connect to their true bodies and voices) and Separate, But Equal (HBO Award winner about Greenville, Mississippi and the birth of the black middle class during legal segregation).
After meeting my creative partner, James Harrell, a fantastically talented multi-instrumentalist, composer and producer, we have co-written and produced as the duo Lythion Music, that bring together our diverse backgrounds as humans and artists. We write, produce and perform music, sound and voice-over for television (Nickelodeon), film (Me, Earle and The Dying Girl and Bad Parents), as well as many stage performances. We also co-host and produce the No, I Know podcast with engaging interviews and live music.
Recently I launched and became executive director of Stories Love Music, a non-profit devoted to teaching creative engagement through music and storytelling to caregivers of those with memory impairment and it's emotional effects. Whether I am narrating an audiobook, producing a film, interviewing someone for my podcast or in a speaking engagement, my goals are the same, to CONNECT AND ENGAGE using our universal and personal stories to open the door to it.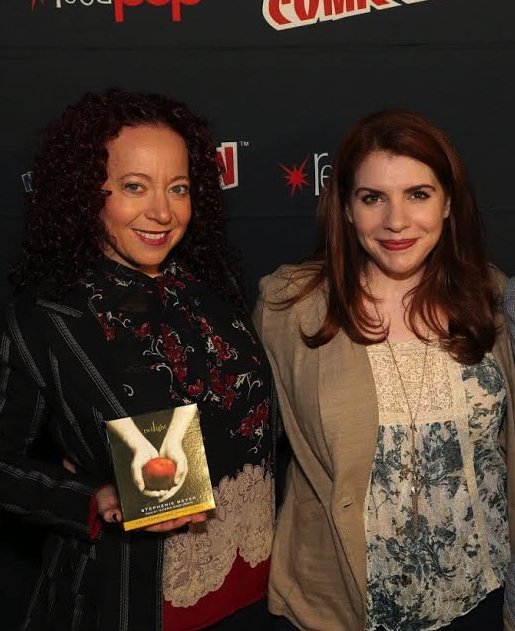 Pictured: Narrator Ilyana Kadushin with Stephanie Meyer, author of the Twilight Saga at the 2015 New York City Comic-Con. Celebrating the 10th anniversary of the Twilight's series release.
Want to know more About Ilyana?
Browse No, I know Website